"New patients are ALWAYS welcomed, and our patients are our BEST resource for knowledge, as well as motivation to be our best and a priceless connection to the community!"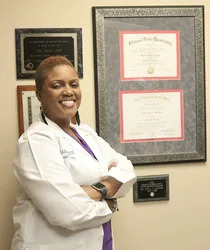 ---
I am a native of Chicago. I have been a leader in the community and a public servant for many years. As a healthcare provider for the last 20 years, it has been pure joy to service both the Southloop and the Chicagoland area as a dentist and business owner.
I am a graduate of the University of Iowa College of Dentistry, where I developed as a professional and fostered my desire to service my community at the highest level. For almost thirty years, I have dedicated my time to community service, research, and healthcare through programs such as Americorp and research on HIV/AIDS vaccine treatments.
In the pursuit of excellence, I have completed advanced studies with the Las Vegas Institute, and the Seattle Study Club. I am a current member of The Chicago Dental Society, Illinois State Dental Society, SPEAR Education, and the American Dental Society. I am also a provider of BioHorizons.
I have a family-centered, comprehensive dental practice, and a gentle touch. I am passionate about maintaining and achieving the best "state" of mental health, wellness, and safety for our community.